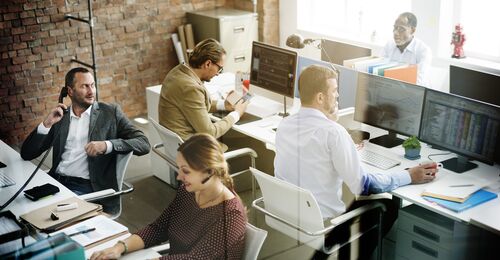 For the average office employee, the office is a space they will spend at least 40 hours every single week. Taking good care of the office goes a long way in employee satisfaction and productivity. In fact, a clean office can also prevent the spread of illness among your staff. In this guide, we will cover a few of the office cleaning projects every company should be utilizing. For more information on office cleaning please contact us.
Get Your Team On The Same Page:
Anyone who has ever lived with roommates knows that the key to a clean environment is for everyone to understand that that's the expectation. The same goes for the office. If your employees do not understand that there is an expectation of cleanliness in the office, it can lead to issues. It is important to let all new employees know that there is an expectation that they will keep their work area clean. It is also helpful to post rules regarding the use of communal office spaces like the kitchen sink or dishwasher. Supervisors might want to remind their team about the importance of office cleanliness especially if they notice an issue.
Provide Cleaning Supplies
Of course, it is difficult to keep the office clean if there are no brooms, dustpans, vacuums, or other cleaning supplies readily available. Make sure that your storage closet is well-stocked, and make sure your employees know where they can find cleaning supplies. A new employee might not want to bother a manager or vice president about where they can find disinfectant wipes, so it is important that cleaning supplies are placed in an obvious place. Keeping supplies stocked and keeping their placement in the office consistent can make it easier for your team to handle day to day cleaning projects.
It is common for every employee to have a trashbin hidden under their desk or next to the door. When lunch is thrown out in these bins, food remains can quickly spoil and rot if left overnight. That is why it is important to make sure that all of the trash is emptied into a large bin at the end of the day. If you are working with a cleaning team, it is important to let that team know where all of the trash bins are located throughout the office. That way nothing gets missed.
Vacuuming and floor care should be done a few times per week. It does not take long for a carpeted area of an office to get dirty. An office has a large amount of foot traffic. It is recommended that carpeted areas be cleaned multiple times a week to prevent damage to your carpets or increased dust and dirt in the air.
Hire The Right Cleaning Company
If you are working with a cleaning company and are noticing that areas are getting overlooked, you might need to move on to a better vendor. Hiring the right cleaning company can help you get the cleaning services you need on a continual basis. A clean office building is not only good for you and your team but also for your clients and customers. For cleaning services in Greater Boston, contact Champion Cleaning.
Commercial Cleaning Advice For Offices