Apartment buildings, complexes, and condominiums have a lot of shared spaces. While tenants are expected to clean their own units, one of the largest categories of tenant complaints is when bathrooms, hallways, and amenities are not clean. To solve for this your apartment building needs to find the right team of cleaning employees to handle cleaning operations. In this article, we will cover why so many large and mid-sized apartment complexes hire teams like Champion Cleaning for daily cleaning services, and how having a porter cleaning team can help keep your property clean.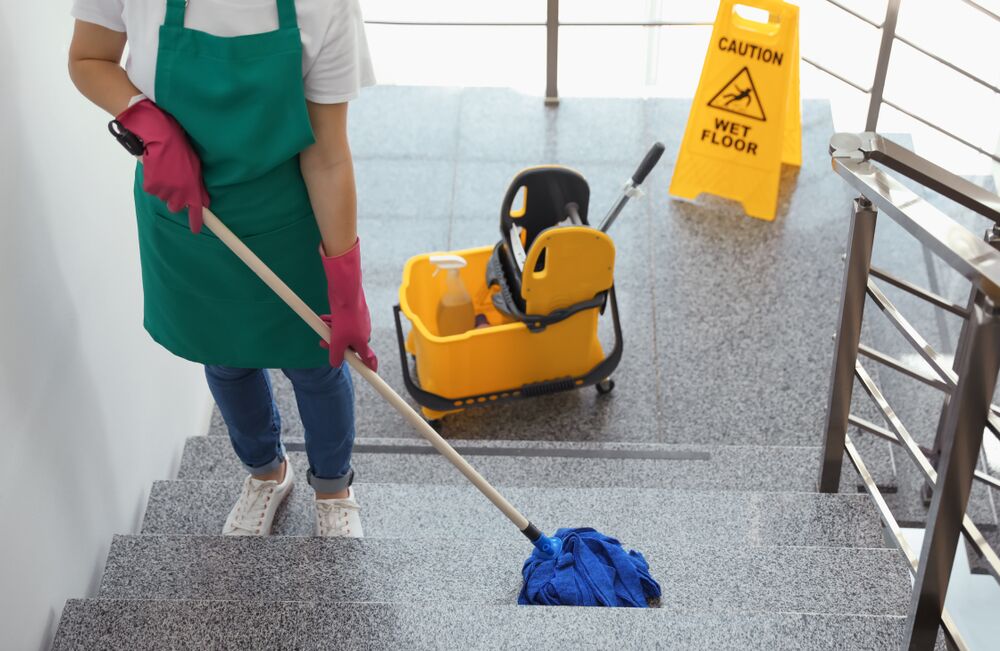 Why Do Apartment Buildings Hire Cleaning Vendors?
The first important question when considering who is going to clean your apartment complex is should you hire your own employees or should you work with a vendor? For a small apartment building with 2-10 apartment units, and only a few amenities, it might be effective to have your own staff handle cleaning. A small property like a multi-home that doesn't have a lot of shared space can be cleaned effectively by the superintendent or a hired cleaning employee. But when we look at buildings with floors of apartments, indoor/outdoor amenities, parking garages, and lots of space, most properties hire out to a team for a variety of reasons:
Value: Hiring a cleaning team to handle your cleaning will save you money when compared to handling it yourself. A good cleaning team comes equipped with trained cleaning professionals and they handle the purchase and maintenance of their equipment and cleaning products. If you take on the cleaning in-house, you have to buy all of the equipment, replacement equipment, cleaning solution, and pay your staff.
Professionalism: A trained team of professional cleaners knows the importance of providing professional-grade cleaning services. Their reputation as a cleaning company and as a vendor depends on their ability to consistently and effectively clean your property and meet/exceed expectations.
Reliability: It is not uncommon for there to be turnover in an apartment building's staff. Concierges, maintenance teams, and other staff members can turn over quite quickly. Working with vendors means having a reliable team you can consistently count on to handle cleaning projects for your property. Managing your own cleaning staff means taking on the challenge of filling in empty positions as they happen.
Security: A cleaning team will provide background checks on its workers so you and your tenants can rest assured that the team in your apartment building is trustworthy.
How Do You Choose The Right Cleaning Schedule For An Apartment Complex?
If you decide to hire out for cleaning services you will need to consider your cleaning schedule. There are two main types of cleaning schedules: routine & daily on-site cleaning. A routine cleaning service means that your vendors will show up weekly, daily, or bi-weekly to handle cleaning services. For a smaller apartment building, this might work well, assuming that your team is handling some of the cleaning responsibility and the vendor is being used for "deeper" cleaning. For example, your team might handle vacuuming and addressing daily cleaning concerns, and your vendor might provide full floor care, carpet care, and window cleaning solutions. But for any property with a decent amount of floors or square footage, we would recommend hiring a team that is showing up daily to clean. Not only can they handle the routine cleaning needs for your property they can handle the cleaning issues that arise consistently. For example, if a tenant spills something in an amenity, your cleaning team is already on-site and can adapt to any messes that are made while they are there.
How Do You Choose The Right Cleaning Company For An Apartment Complex?
We have written on the topic of choosing cleaning vendors before. But summarized, if you are looking for a vendor for your property you want to consider some key factors. You want to make sure you pick a vendor that has the tools necessary for cleaning your property. If you need a team that can handle specific amenities like a gym, for example, you will want to make sure that is something they provide. You want to make sure the team you hire is well-rated and has a long track record of providing great services for their clients.
Apartment Complex Cleaning Teams in Boston
For apartment buildings in the Greater Boston area, Champion Cleaning provides teams of cleaners that handle daily cleaning services. For more information on our services, please contact our team.
Where To Find Cleaning Employees For An Apartment Building