Commercial Cleaning Teams For Apartments & Condominiums in Greater Boston
As a property manager, you have a lot on your plate. Making sure residents are happy, scheduling tours for new tenants, and handling the day to day needs of your properties is a tall task. That is why after having the right team managing your buildings, you need to have the right vendors. Champion Cleaning prides itself on mutually beneficial relationships with property managers. We provide a wide array of cleaning and disinfecting services for apartment building common spaces and amenities.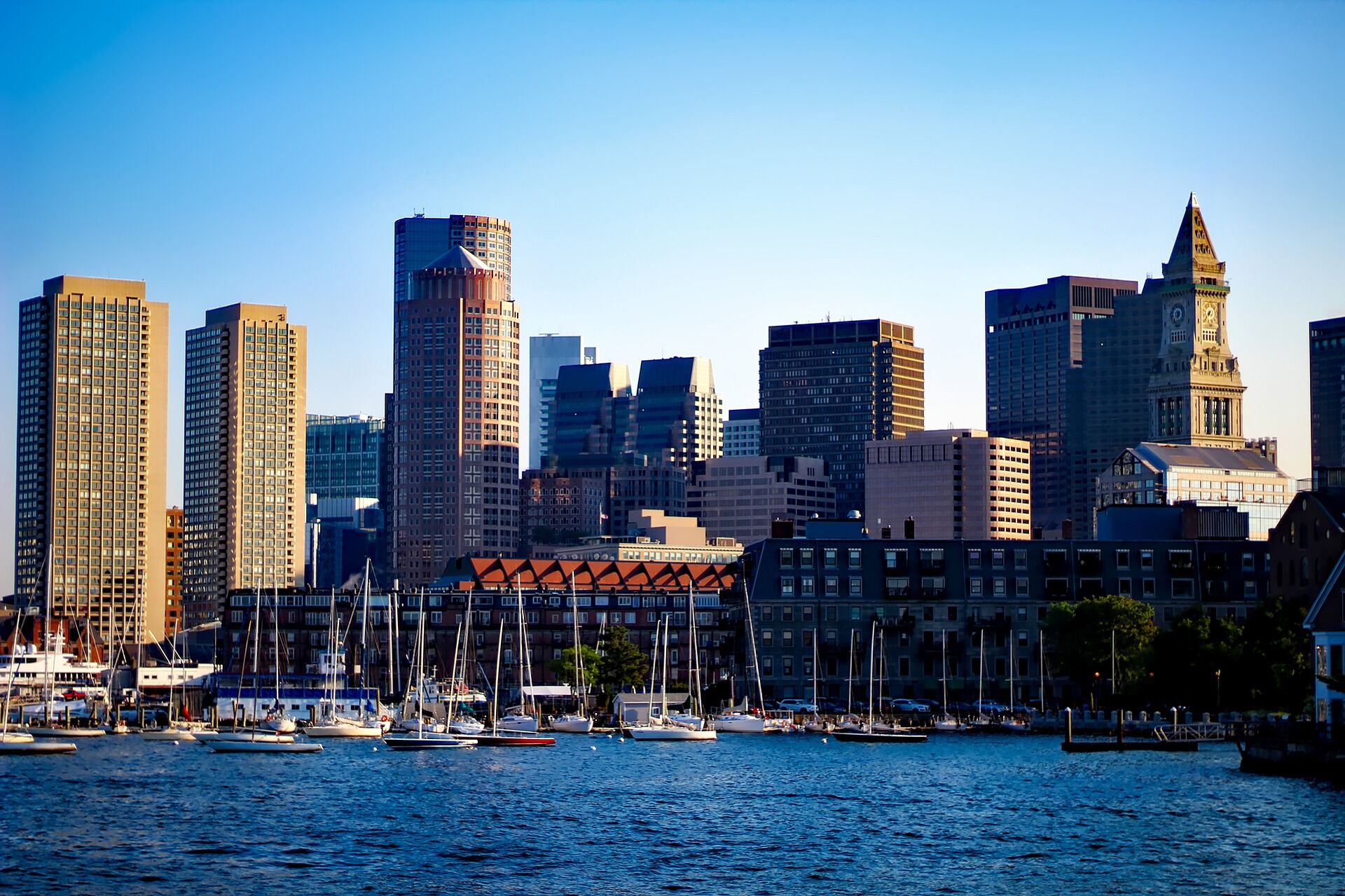 Carpet Cleaning, Floor Care & Window Washing For Boston Apartment Buildings
Full Teams Of On-Site Daily Cleaning Staff For Apartment Buildings & Condominiums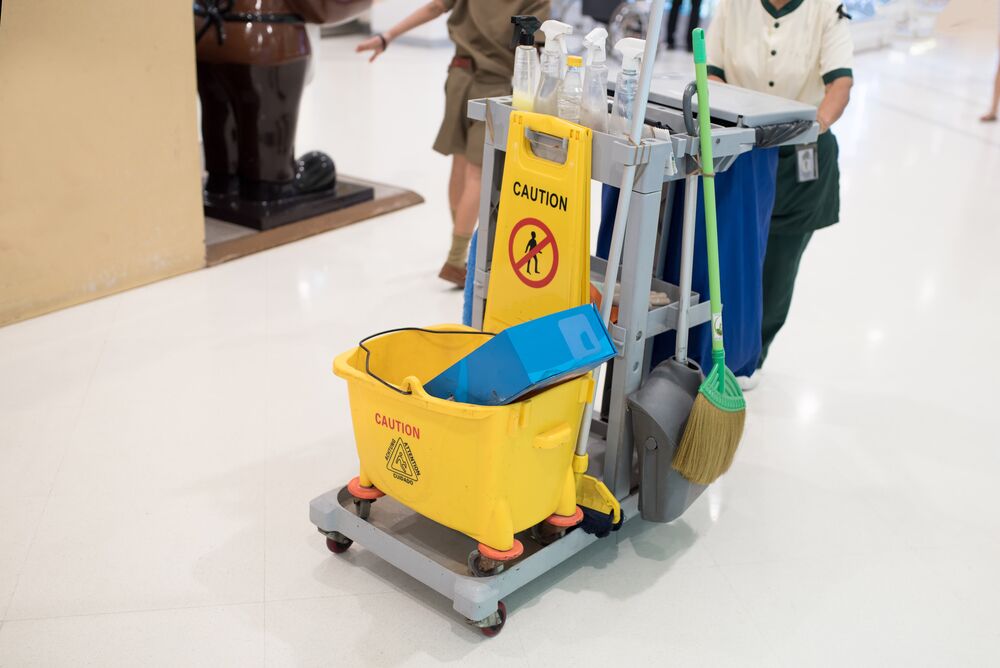 The cleanliness of your property is paramount to your reputation, it affects both new tenants and current renters' decisions as well as online reviews. Like many vendor services, the mark of a job well done is when our cleaning services integrate so well with a property that the tenants don't even realize how much goes into keeping the building clean. The only time property managers hear about the cleanliness of their property is when there is an issue, so if your tenants have issues with amenities and common spaces, we would like to help.
Here at Champion Cleaning, we provide full teams of cleaning staff that work daily to handle the routine tasks, and cleaning issues as they arise. We specialize in working with larger properties and handling lobbies, hallways, parking garages, stairwells, and more.
Get A Quote For Apartment/Condominium Cleaning In Greater Boston
Our Affiliations & Property Management Companies We Work With:
"Champion Cleaning has provided us with reliable, dependable service and saved us money in the process. The entire company, from owner to cleaning teams, is professional and pleasant to deal with –resulting in our complete satisfaction. We highly recommend Champion Cleaning."
Keep Common Spaces In Your Property Clean With Champion Cleaning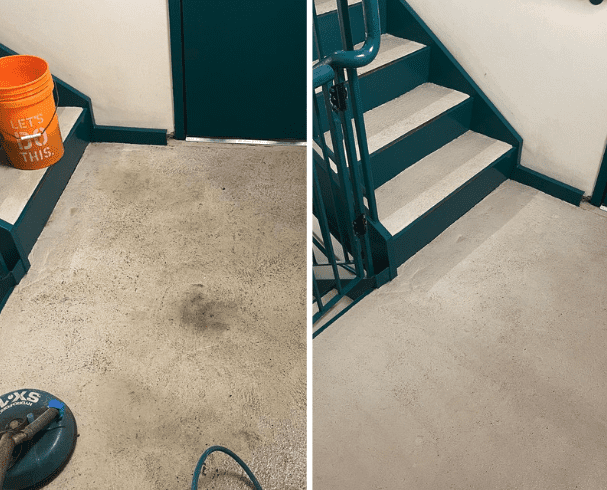 Renters understand that it is their responsibility to clean their own units, but they may take less responsibility for messes left in hallways, lobbies, and other common spaces. Even without tenants, every room can always use vacuuming, every carpet can use steam-cleaning, and every floor can use buffing. That is why we provide amazing floor care services for your common areas. We clean the following common areas:
Teams Of Cleaners in Massachusetts and Southern New Hampshire
Our teams of cleaners work throughout Massachusetts and Southern New Hampshire to provide excellent cleaning services. Our team members work daily on-site to provide the quality your tenants expect. The best cleaning teams are effective, non-disruptive, and efficient at switching from the routine cleaning projects to handling messes as they occur.
We provide some additional value to the properties we work with as well. We have specialized services including truck-mounted steam cleaning technology for carpet cleaning. We provide pressure washing services for stairwells, parking lots, and garages. Our team can also handle tile & grout cleaning, entrance matting, and restroom supplies for your property. And our team provides opt-in apartment cleaning services including both carpet cleaning and window cleaning for your tenants.
If you are interested in learning more about our cleaning services, please give us a call.
Frequently Asked Questions:
Contact Champion Cleaning Today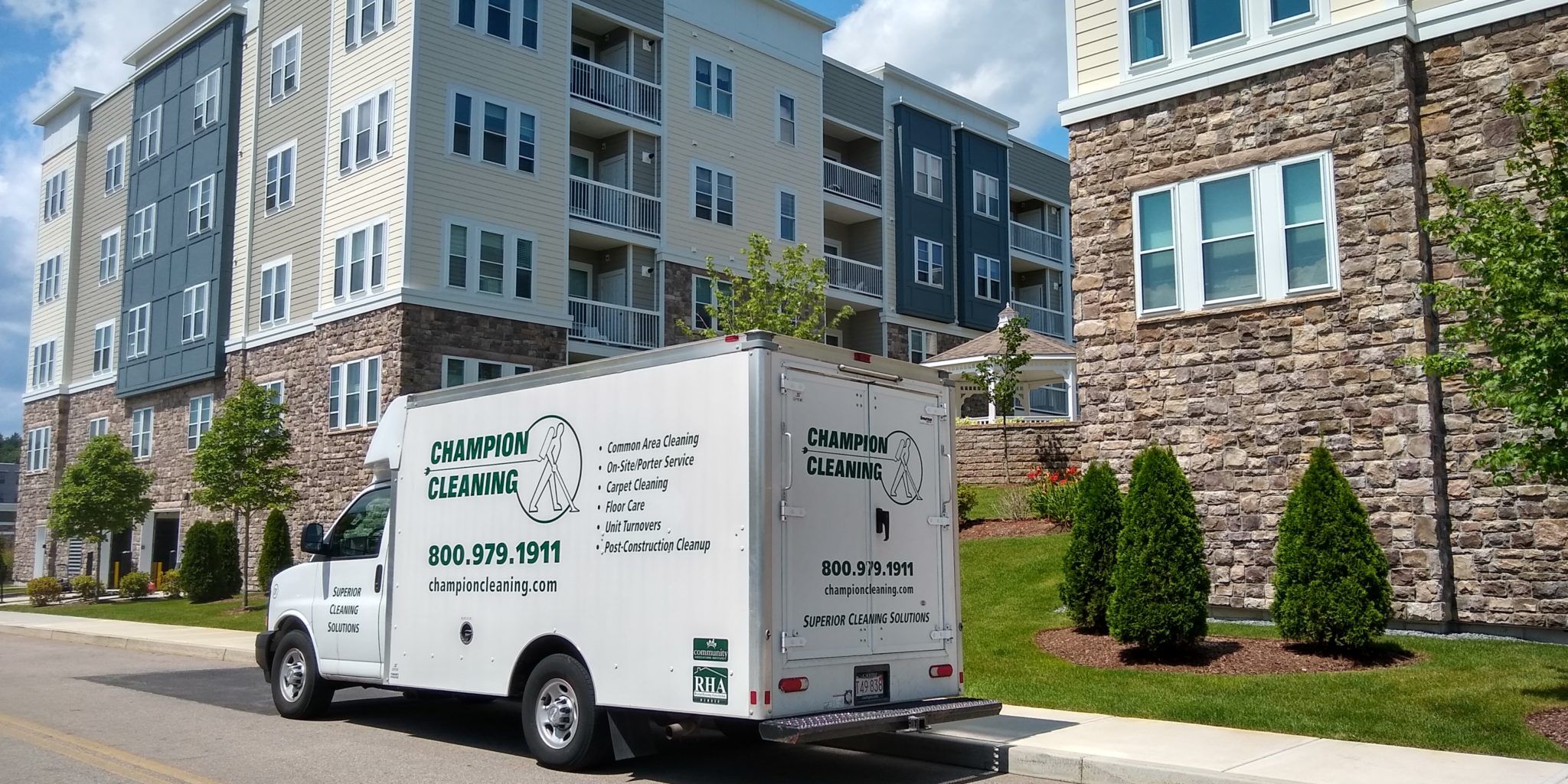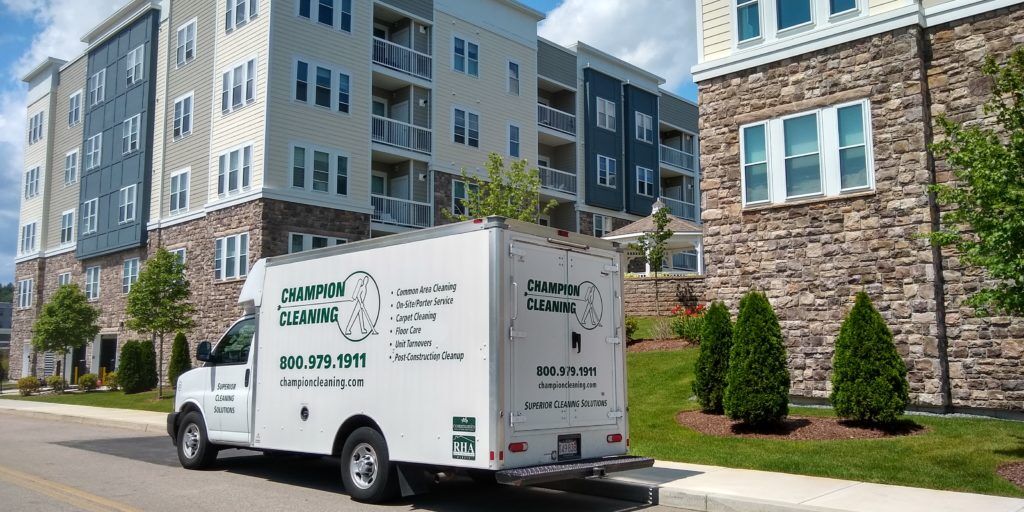 Tenants might not notice when your cleaning team is firing on all cylinders and effectively cleaning a property. But they will notice when they aren't. Champion Cleaning works hard to provide teams of cleaners that will meet and exceed your tenants' expectations. If you have questions about our cleaning services or would like to schedule same-day service, please contact us via our contact form or by calling 800 979-1911. A member of our team would be happy to answer your questions.