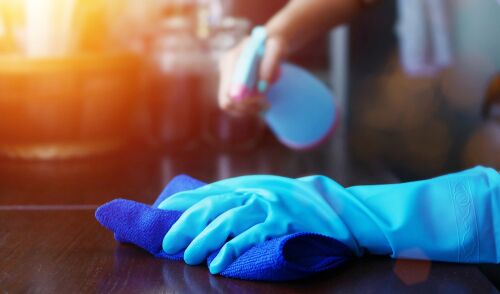 Due to the COVID-19 pandemic, it is vital that businesses, multi-housing buildings, apartments, and condos all sanitize their common areas. That is why the Champion Cleaning team has organized our services to help fight COVID-19 spread in Massachusetts and southern New Hampshire.
We use an EPA-registered disinfectant that has a specific "kill claim" for the human coronavirus. Products without this testing and scrutiny cannot be guaranteed to be effective against COVID-19. The CDC has recommended regular cleaning and disinfecting for commonly touched surfaces. The COVID-19 virus can survive for hours to days depending on the surface it is on and the environmental conditions. Having common areas wiped down regularly is highly encouraged to prevent further spread of the disease.
What You Need To Know About COVID-19 Sanitation
The CDC continues to be invaluable to homeowners and business owners throughout our country. They have provided comprehensive guides from knowing the symptoms of COVID-19 to guides on how to prevent its spread. Most importantly, they are continuing to update these pages regularly to keep us all informed on the best practices. Please view the CDC's website for more info. Here are a few highlights everyone should be aware of:
For disinfection, EPA-registered products are needed. Products that have not received testing and approval by the EPA for killing the COVID-19 virus cannot be trusted to disinfect.
If items can be laundered, the CDC advises using the warmest setting of water that those items can be washed in when disinfecting clothing, towels, etc..
Electronics can be cleaned with alcohol wipes or spray that has 70% alcohol.
Electrostatic Disinfection Service in Boston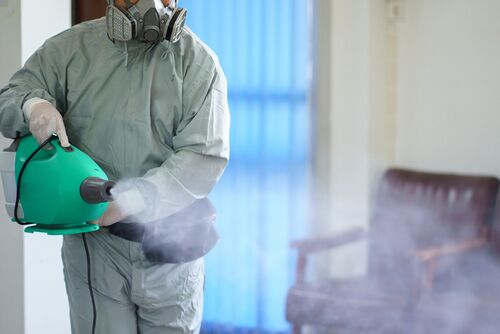 Where applicable, Champion Cleaning utilizes electrostatic disinfection technology to thoroughly clean and sanitize offices and apartments throughout Greater Boston. In the past, electrostatic disinfection was primarily used for medical facilities and clinical labs. However, due to the pandemic, this method of cleaning has seen widespread use from apartment buildings to corporate offices. That is because electrostatic disinfection uses static electricity to bind the disinfectant spray to surfaces throughout the building, ensuring a deeper more comprehensive cleaning service.
Apartment and Condo Building Disinfecting Services
If you manage apartment buildings and need regular disinfection service, please contact Champion Cleaning. We can provide you with a free quote and the services you need. We will disinfect door handles, floors, stairwells, and other commonly-touched and high trafficked areas of your building on a regular basis. We also provide an EPA-approved cleaning solution that can be used to disinfect areas around your building. For more information please send us a message through our contact form.
Commercial Building Sanitization
If your building needs sanitizing services, Champion Cleaning can help. Many essential services are still operating. If your business is operating during this time, it is vital that it is regularly cleaned and sanitized for the health of your team. The Champion Cleaning team is here to help. We can set up regular cleanings as needed and handle all of the commonly touched surfaces.
Get An EPA-Approved Cleaning Solution
For your maintenance staff or board members to use between our scheduled visits, we can provide kits of the same coronavirus-killing product that our crew uses. If you are interested in learning more give us a call to discuss. We are providing an easy concentrate dilution kits that have been vetted to eliminate viruses like the human coronavirus from surfaces.
Contact Champion Cleaning For More Info
If you need disinfectant or cleaning services for your commercial or residential building, please get in touch with our team. We are working hard to provide our services to as many residents and businesses as we can throughout our service area. Send us a message for cleaning services.