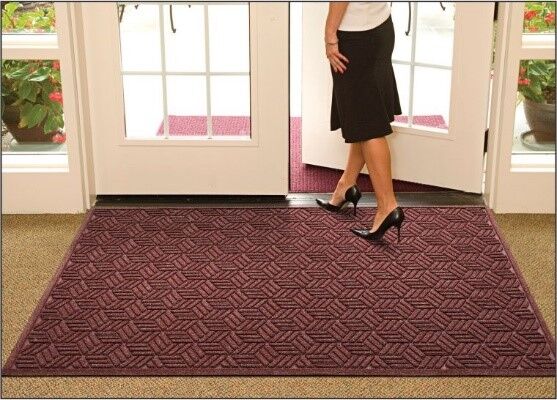 Entrance matting provides a lot of protection to offices, apartments, and condo buildings. This is especially true for commercial properties in Massachusetts. Rainy falls translate to wet leaves. Snowstorms in the winter translate to tracked in mud and road salt. And during the spring, pollen causes allergies when tracked into your building. By simply adding entrance matting to your building, you can keep the nature outdoors.
Consider These Entrance Matting Facts:
Approximately 70-80% of all moisture, dirt, and debris that enters a building comes in on the bottom of one's shoes.
Experts say it costs approximately $500 to remove every pound of dirt that gets tracked into a building. Matting traps and prevents unwanted dirt, debris, and contaminants from entering a building and doing damage.
Floor and carpet maintenance can be dramatically lowered with the implementation of an effective entryway matting system.
Because people don't typically wipe their feet off anymore, a minimum of 10'-20' of walk-off length is recommended by the Carpet & Rug Institute. This can be a combination of mats, both indoor and outdoor matting.
---
The Benefits Of Entrance Matting
Entrance matting provides multiple benefits beyond simply avoiding mud on your building's floors. One benefit of entrance matting is that clean floors and carpets improve the air quality of your building. This translates to less sickness for employees and tenants, as well as fewer allergens during the spring. Entrance matting also protects your carpets from dirt and debris getting pressed deep into fibers. Caked-in dirt will cause your carpets to fray and rip over time. Cleaning your carpets and floors is preferable to having them replaced because of set-it stains and tearing.
Affordable Entrance Matting
The cost of entrance mats, of course, is much less than needing to replace your carpets or flooring. Champion Cleaning is a direct distributor for our manufacturer. Simply give us a call, and a member of our team will come to your location for a complimentary entrance matting survey. We can help you decide on the dimensions and design for your entrance matting that will keep your building cleaner.
---
Champion Cleaning also provides a variety of routine cleaning services for commercial properties in Massachusetts. Learn more about setting up quality routine maintenance for your building include rust cleanup, garage cleaning, window cleaning, and more.