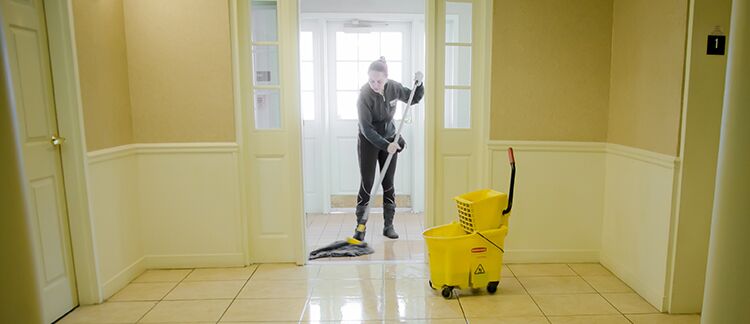 CHAMPION CLEANING STANDARD SERVICES:
Vacuuming
Cleaning of entrance glass
Dusting
Cleaning of laundry rooms
Washing of tile and linoleum floors
Sanitizing "touch-spots" – door handles, entrance buzzers, elevator controls, light switches, handrails
---
Keep it Clean: Ongoing Maintenance Cleaning
Our apartment complex cleaning and maintenance services include regular attention to the common areas of your condominium community or apartment complex. Buildings and grounds can be maintained daily, weekly, monthly, or on whatever schedule best meets your needs. As part of our commitment to provide you with quality service, we use industrial-strength vacuums, each equipped with a special filtration system, resulting in cleaner air quality for your buildings. So whether you manage an apartment building or condominium, all of your tenants can enjoy a regularly cleaned building.
---
Project Cleaning Services
Commercial Carpet Cleaning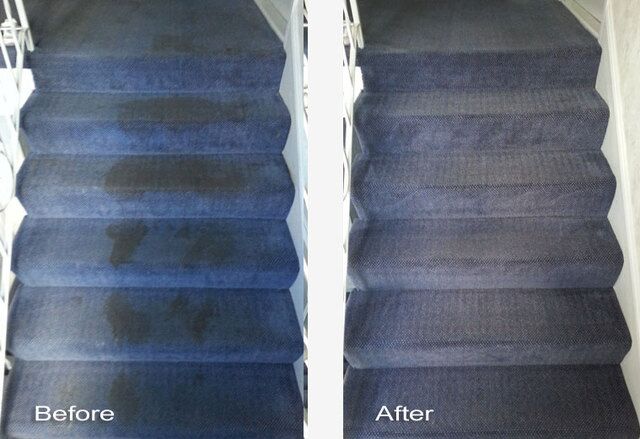 As an add-on service to our regular maintenance contracts, we offer carpet cleaning services for the common areas and hallways of your condominium association or apartment complex. As a stand-alone service, Champion Cleaning happily offers the same high-quality carpet cleaning services to other commercial properties, offices, & homes. All stains and foot traffic areas are pre-treated then cleaned using hot water extraction. This allows chemicals to clean deep down, leaving your carpet clean and fresh! Not only will this improve how your building looks, but it will also improve air quality, remove odors, and keep your carpets from getting damaged over time.
---
Commercial Window Cleaning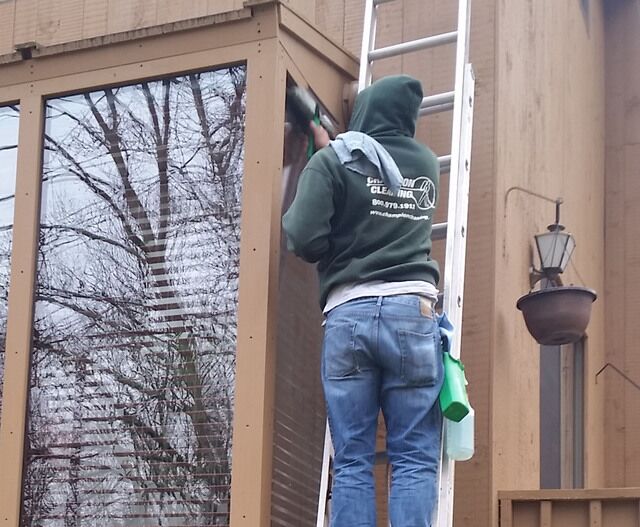 Champion Cleaning can handle all the necessary window work related to your condominium community, such as the large stretches of glass extending above building entrances. Pricing is based on window size, accessibility, and whether there is a need for blading. Blading is used when heavy weathering has settled into the glass. As one of our standalone services, Champion Cleaning is happy to provide this service to offices and other commercial clients as well.
---
Tile & Grout Cleaning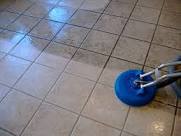 We'll clean your bathrooms, kitchens, lobbies, or any other rooms that contain tile and grout. We use a high-pressure cleaning system that removes years of built-up dirt and grime. Don't overspend and replace tile floors that could easily be cleaned. Bring back your tile's original look. With Champion Cleaning you can bundle this service with one of our other great services like commercial carpet cleaning.
---
Rust Removal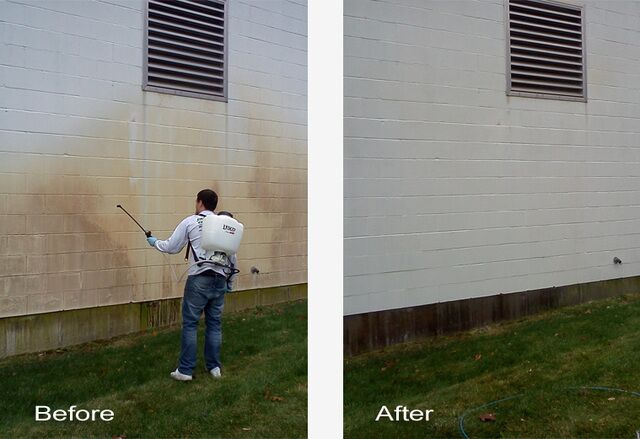 Let the Champion Cleaning team take care of unsightly rust stains on your apartment complex or condominium property. Our rust removal service uses safe, environmentally friendly technology to remove all signs of rust and corrosion, leaving your property looking like new again. Whether you are dealing with indoor or outdoor rust, we have the equipment and chemical solutions needed to remove rust easily.
---
Garage Sweeping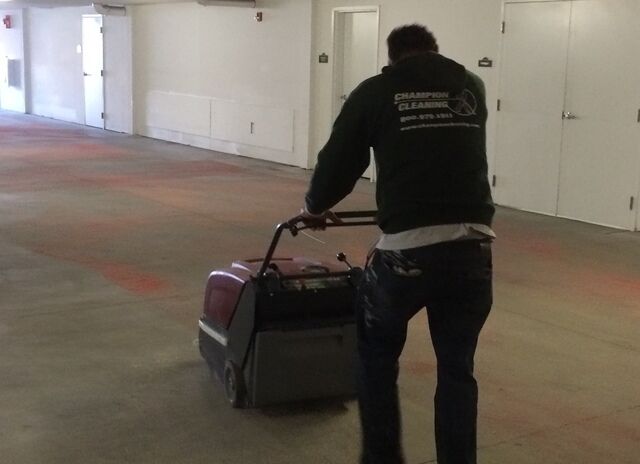 Our crews use battery-operated sweepers to clean up leaves and sand that have been tracked into the garage over the fall and winter months. Additionally, we use a sweeping compound on the garage flooring to help keep any residual dust to a minimum. We also provide pressure washing services for more aggressive cleaning.
---
Awning Cleaning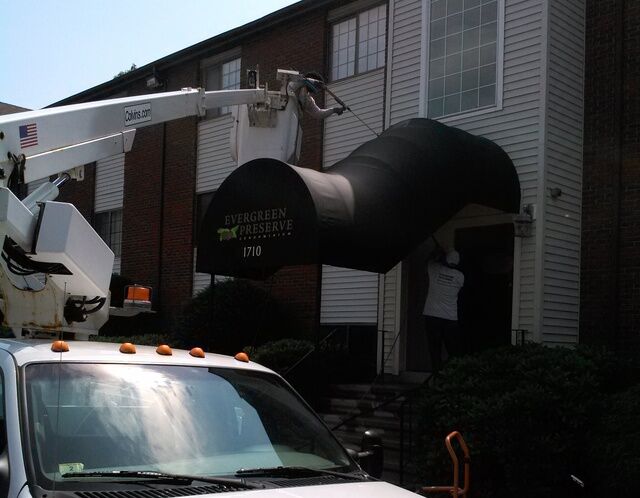 Our team uses our bucket trucks to get rid of dirt and grime that have caused stains on your awnings. Leftover leaves, twigs, and dirt can cause damage to your awning, especially after the winter. Using a high-pressure system, we are able to remove the heavy dirt, grime, and mildew that forms on the tops of awnings over time – leaving the awnings looking like new again.
---
Construction Clean-up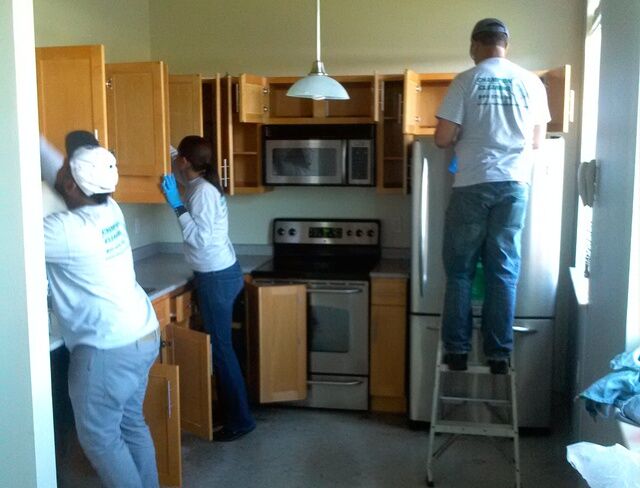 We provide crews to handle small to large projects. Our teams of cleaners will completely clean your new construction project. We work directly with the contractor or on-site project managers to be sure the final phase of the work is completed on-time. Below is a list of some of the contractors and builders we have recently worked with:
AJ & Sons
Bluefin Consolidated
Bushnell Construction

CDI Commercial Development, Inc.

Charter Brothers Construction
Copperleaf Development, LLC

Dworkin Construction Corp

Pulte Homes
PreCon Construction
ProCon, Inc
---
Pressure Washing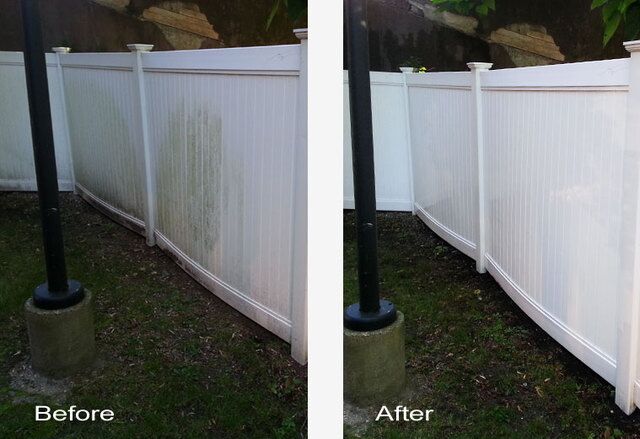 Even the most well-kept properties will inevitably need some kind of heavy cleaning to remove what mother nature leaves behind over the course of a year. Pressure washing is a very effective way to bring exterior surfaces back to life. Walkways, vinyl siding, fences, decks, pool areas, etc. We can handle any size job.