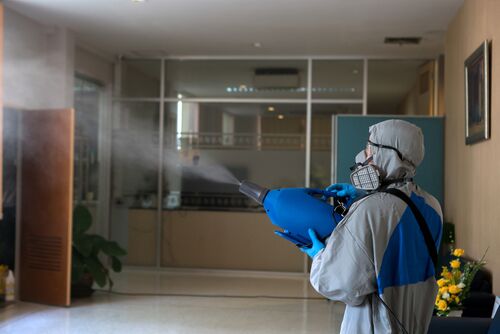 During this pandemic, business owners and managers across many industries have had to deal with challenges they never thought they'd be faced with. Constantly adapting to new rules and regulations and also handling tough decisions on a daily basis has surely been difficult. At Champion Cleaning, we want to ensure that when it comes to getting disinfection services, it is as convenient as possible. That is why in the event that a building needs to quickly be disinfected, we offer expedited same-day services to businesses and apartment and condominium buildings in our service area. To request an appointment please fill out this form.
What To Do If An Employee Tests Positive For COVID-19
If a member of your staff informs you that they or someone they live with has tested positive for COVID-19 they should be sent home immediately and told to self-isolate. The CDC has recommended that individuals either stay home a minimum of two weeks or until their symptoms diminish or until they have received a negative test. After ensuring that this member of the staff is self-isolating you should shut your business down until it can be properly disinfected. It is also recommended that other employees get tested and monitor themselves for any symptoms. For more guidance please visit the CDC's guides for business owners.
Reduce Downtime With Same-Day COVID-19 Disinfection Services
As a business, downtime can be extremely difficult. If a member of your team tests positively for COVID-19 our team is equipped with the proper PPE and equipment to efficiently disinfect your building. We want to ensure the safety of your team and our communities, which is why we use electrostatic disinfection. This method is highly efficient in disinfecting large areas quickly. We only use products that have been vetted by the EPA and CDC for their efficacy in preventing the spread of COVID-19. After disinfecting your building we can discuss routine disinfection services as well as our other cleaning services that we provide our clients.
Routine Disinfection Services In Greater Boston
Businesses and residential facilities including apartment buildings and condos, rely on our teams of cleaners to make sure that their buildings are properly cleaned. The CDC defines the difference between cleaning and disinfecting by noting that disinfection utilizes chemical solutions designed to destroy viruses and bacteria, whereas cleaning simply removes them. We provide both disinfection and cleaning services as well as a host of additional services that can make your building not only safer but cleaner as well. For more information on our routine services or to get a quote for your building please contact us through our general contact form.
Concentrated Disinfectant Available for Businesses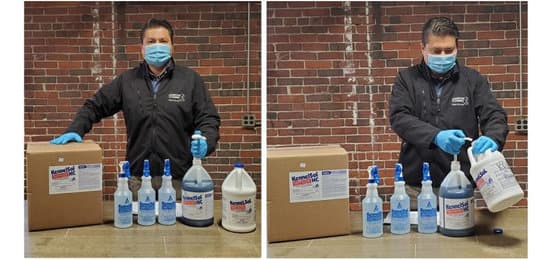 Our team provides routine weekly or bi-weekly cleanings for our clients throughout the Greater Boston area. However, between our cleanings, it is important for staff to regularly disinfect commonly touched surfaces. That is why we provide concentrated disinfectant that can be mixed with water to yield large quantities of ready to use disinfectant. For more information please contact our team.